White House recognizes JHU biomedical engineering researcher for mentoring efforts
Tilak Ratnanather is one of 14 recipients of Presidential Award for Excellence in Science, Mathematics, and Engineering Mentoring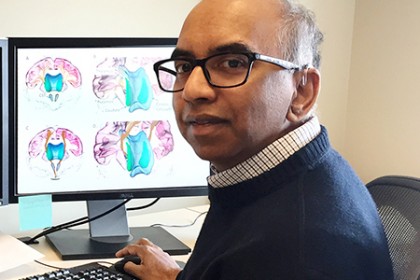 J. Tilak Ratnanather, an expert in brain mapping and a champion of people with hearing loss, is a recipient of the Presidential Award of Excellence in Science, Mathematics and Engineering Mentoring.
Ratnanather, an associate research professor in Johns Hopkins University's Department of Biomedical Engineering, is one of 14 scientists around the country to be honored with the prize. The recipients will receive their prizes at a ceremony at the White House later this year.
It is an honor for me to receive this award," said Ratnanather, who also is a core faculty member of the university's Institute for Computational Medicine and its Center for Imaging Science. "Just as my mentors at University College London, University of Oxford, City University London and Johns Hopkins University took a chance on me, I am paying it forward for the next generation of deaf and hard of hearing students who have chosen to thrive in the demanding, challenging and exacting environment of regular college."